I'm thrilled  to be a stop in the blog hop for the EQ7 Seasons Row-A-Long, hosted by Marian Pena of  Seams To Be Sew.  If you are a visiting QuiltShopGal for the first time, Welcome.  And, if you are already a follower, I want to encourage you to check out all the participating blogs in this event as there are free Seasonal PDF patterns everyone can download and use to create ROW quilts, many tutorials, great inspiration, fun and amazing giveaways at each stop. To clarify, I have a free ROW pattern, a tutorial, as well as some giveaways for you today as well as links for the participating bloggers in this event.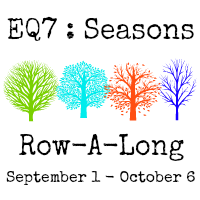 Are you thinking "What is a Row-Along?"
I'd like to stress, this is NOT the Row By Row Experience Shop Hop. I think of a Row quilt as unique designs for a row of blocks, or a row of a quilt, where the overall ROW quilt has a theme and you can combine various row designs to create your own unique quilt.  For this Row-Along, it is a fun blog hop where every participating blogger provides a unique design for a row quilt, with a Seasonal theme.    These designs were created using EQ software and many designers are also sharing their design file.
For this EQ Seasons ROW-Along, Marian has line up bloggers that provide a free pattern every Tuesday, with the theme:
Spring

Summer

Fall

Winter

filler row
And there are weekly giveaways, at each stop in this hop, as well as special giveaways to be awarded at the end of this event.
And, for those on Facebook, there is also a public group you can join to chat and share with others participating in this event, as well as sharing what everyone creates with these free patterns.  The Facebook group is called "EQ Seasons ROW-Along" and is packed with inspiration.
DID I MENTION A FREE ROW PATTERN BEING GIVEN AWAY HERE?
My ROW quilt design is called Winter Delight.  It is designed for a ROW of six blocks, finish 8″, for an overall row of 8″x48″.  Each block is designed for raw edge applique'.
 For me, Winter is a Season of Beauty and whimsical fun.
I had a blast using EQ7 to create these whimsical blocks. The snowflake block can easily be made using the AccuQuilt Holiday Medley die #55043, or you can traditionally cut it using the template provided in my pattern.
You can download a free PDF pattern for my Winter Delights ROW Along quilt.  This pattern will be free, thru October 31st. Afterwards, it will be available for a nominal fee, where funds will be used to help with postage expenses for various prizes I ship directly to WW winners.   CLICK HERE to download.
For those that have electronic cutters (e.g. Silhouette Cameo, Sizzix Eclipse, Brother Scan N Cut, etc), you can download my SVG files for free prior to October 31st.  Afterwards, the SVG files will be available for a nominal fee, where funds will be used to help with postage expenses for various prizes I ship directly to WW winners.  If you are not familiar with how to use SVG files, please follow me on Youtube, as I will be releasing a tutorial soon, to show you how.
If you are an EQ user and would like EQ block designs for my Winter Delight design, as well as other designs shared in this Row-Along, the EQ team has kindly compiled a BLK file of all the designs shared in this event.  Here is a link to a tutorial and a download BLK for most of the design shared during this event, but the download BLK file will only be available thru October 31 st as many of the designers will be selling their ROW-Along patterns as of November lst.
DID I MENTION A TUTORIAL ?
There are some wonderful tutorials being shared during this ROW Along.  I decided to give a very quick and simple tutorial showing how easy it is to take an applique design and turn it into a machine embroidery design using EQStitch.  The EQStitch plug-in is a very economical and simple to use digitizing program that works with EQ7 software.  It is a great entry level digitizing program that is quite fun to use.  Perfect to make quilt labels and easy embroidery designs, which include fills and/or applique.
I also used this as a personal learning opportunity, where I have created my very first video tutorial:
If you have problems viewing this embedded video, here is a link to watch it directly in Youtube: https://youtu.be/TJUsP4gsUDE
It is s-o easy to digitize a design in EQStitch.  Maybe you'll want to digitize your own designs, block designs that come with EQ, or even create your own unique quilt label?  How about a unique quilt label for your EQ Seasons Row Along quilt?
DID I MENTION A GIVEAWAY ?
There are so many different giveaways that Marian Pena, of Seams to Be Sew, arranged with various sponsors.  Today I'm hosting three different giveaways, thanks to Marian and the sponsors.  Each have a unique Rafflecopter form that you can enter any or all, that you may be interested in winning.  I'm also sharing insights, to heighten awareness, of other giveaways that you may want to enter.
QuiltShopGal is hosting three giveaways, which were arranged by Marian Pena of Seams to Be Sew, and the sponsors.  They are open to WW participants, simply use the unique Rafflecopter form, for any or all of the three giveaways, which you may want to win:
Fat Quarter Shop is sponsoring a giveaway where QuiltShopGal will randomly select a winner of a $25 Gift Certificate.  This giveaway is open to anyone anyplace in the world.  Simply use the Rafflecopter form below to enter this giveaway.
a Rafflecopter giveaway
Northcott is sponsoring a giveaway at every stop in this hop where you can enter to win a bundle of 6-8 pieces of fabric, in 1 yard lengths.  Estimated value is $60-80 for each bundle. To enter, simply use the Rafflecopter form below
 Rafflecopter giveaway  
Sulky is sponsoring a giveaway, where one lucky winner could win a one Sulky  6-pack 30 wt cotton threads,  which contains 6 spools at 500 yards per spool. Each packs value is $36.00.  This giveaway is open to anyone WW, just simply use the rafflecopter form below if you want to enter to win this prize a Rafflecopter giveaway
As mentioned, weekly, each blog in this event will be hosting various giveways.  So follow the lineup for this week, as well as next week, to enter all of the amazing giveaways. This includes an opportunity to win a copy of EQ7.  Click here to enter this giveaway hosted on the Do You EQ blog.
The EQ team has also written a tutorial, to help EQ users download a library of the majority of the blocks, which they kindly compiled, from participating blogs in the EQ Seasons Row Along event.  This BLK library will be available for free at EQ for the next 30 days.
While Marian (Seams to be Sew) arranged for amazing giveaways to be offered each week, at each stop in this ROW Along, blog hop event, she also has many wonderful prizes that will be given out at the end of this event, including some for those that use the free ROW Along Patterns to create the Seasonal themed ROWS and/or quilts.  For more info on this ROW Along and more prizes, be sure to visit Marian's inspirational blog. 
DID I MENTION A ROW-ALONG BLOG HOP ?
Thank you to Marian of Seams to be Sew for organizing this amazing event.  Here is the line up for this fun blog hop this week:
On October 6th, they'll be more stops in this hop, with more free patterns, tips, tutorials and giveaways, as well as reveals of quilts made using various ROW Along patterns.
Don't forget, all stops in this hop share free downloadable PDF row patterns and while many have shared their EQ PJ7 files, the EQ Team is creating a downloadable BLK file with the majority of all the designs shared in this event.  And, each week new giveaways are shared in the blogs scheduled for that week, which are typically open for the week.  There are also opportunities to enter to win prizes to be awarded at the end of this event.