Making a project with others can be great fun.  I find it motivating and enjoy seeing the design made in various colors, as well as tweaking of designs from time-to-time.  Plus, there is great support when someone gets stuck, as there is always someone that can help.  I also think of this as dedicated sewing time where I will stay focused and more likely to finish a project vs create another UFO.
What do you think about stitch A longs (aka Sew A Long, Sew-cials, Sit N Sew, Row A Long, etc.)?
While I typically don't post on Saturdays, as I like to use this time for sewing, I've decided to host a series of virtual Stitch A Longs, as well as continue to participate in various Sew A Longs that are hosted by others.  Of course, I hope you'll join me and share photos along the way.  While I'm far from an expert, if you get stuck I will gladly try to help you, but I'll also coordinate bringing in some experts to help.
You'll also periodically have opportunities to win sponsored prizes, by participating in these Stitch A Longs.
I'll post insights on these Stitch A Longs on Saturdays.  Some projects may get completed that week, where others may go on for 2-3 weeks, just depends on the size and complexity. And, I'll share insights on upcoming projects, to give you advance notice to give you time to get supplies.
Projects will vary from quilting, machine embroidery and sewing that may be based off a free tutorial,  pattern or machine embroidery design, where others may come from a book, pattern, or machine embroidery design that you will need to purchase to participate.  While I don't sell anything (I'm not in the business) I will share information on where you can make such purchase, if you wish to stitch this project with me, but you can also let your favorite quilt shop know you'd like them to carry the design too!
You are probably aware that the EQ Seasons ROW A Long has begun.  This fun event is hosted by Marian of Seams to Be Sew.  Every week, through October 6th, Designers at participating blogs release a free downloadable design, for a particular season, in the form of a row of blocks.  You can mix and match various ROW designs, to create quilts, wallhangings, table runners, etc..  This is a free event open to everyone.  Follow My Creative Blog List for weekly updates to links for this blog hop, or visit Seams to be Sew for more info.  There is also an optional group on Facebook that you can join, where sharing and more.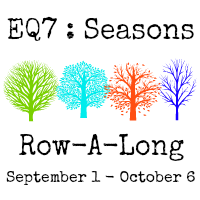 I'm excited about the EPP Sew Along, hosted by the Fat Quarter Shop, that starts on Wednesday, September 9, 2015.  I'll definitely be working on this.  Details will be posted on the Jolly Jabber blog.  I'm gathering my supplies today  and following the supply list from the Fat Quarter Shop/Jolly Jabber blog post: http://fatquartershop.blogspot.com/2015/09/english-paper-piecing-sew-along-with.html  I'm able to use some supplies I already have, but Fat Quarter Shop also has a complete kit at a reasonable price.
After this Sew Along,  QuiltShopGal will host a variety of Stitch A Longs, but the first one will be for free-motion quilting and one of the projects will be to quilt our EPP projects!
Upcoming Stitch A Longs, which you may want to start gathering supplies for are:
Free Motion Quilting using The Ultimate Stencil and Ultimate Backgrounds stencil collections by Cindy Needham. 
Cindy's new Ultimate Backgrounds collection includes 20 stencils… ½ and ¾" grid and six different designs in Papa, Mama and Baby sizes.  These are very versatile and allow you to fill nearly any space with beautiful background designs.  These complement The Ultimate Stencil which allows you to create nearly any design in any size you wish.  Be sure to check out her website for free downloadable handbooks and YouTube instructions.
 Truly  Ultimate Stencil Collections where design possibilities are endless.  You can apply these stencils to your quilts and more.  Of course, I'm shooting to FMQ my project created in the EPP Sew A Long, hosted by the Fat Quarter Shop, using these amazing stencils, but what you may want to use these stencils for during this stitch a long is totally up to you.  And, you'll see me use these stencils in many future Stitch A Long events too!
In this stitch a long, I'll be playing around with different combinations on my practice sandwich which I will turn into Click It Bags (pattern by Robin Gallagher), but you can opt to just practice along with me, turn your practice sandwich into various projects or not, or to apply your designs to your quilts.
To clarify, this FMQ Stitch A Long will be comprised of several sessions: we'll have a doodle session where we'll share various design ideas, followed by stitching out on practice sandwiches, followed by turning those sandwiches into other projects or apply your designs directly to your quilts.  And, one of the projects, for those that participate in the EPP Sew A Long, will be to free-motion quilt them using the Ultimate Stencil and Ultimate Background Stencil.  Definitely there will be a lot of opportunity to learn and improve your free-motion quilting skills, as well as have fun.
In early October, I'll host a stitch along that is appropriate for machine embroidery enthusiasts, but you can still join the fun even if you don't do machine embroidery.
Marjorie Busby, of Blue Feather Quilts, is a talented designer and digitizer.  We'll be stitching out her Winter Bliss Design Collection.  Participants can make the embroidered blocks into a cute holiday wallhanging, or table runner, or any project they wish.  I'll be sharing insights on how to create a wallhanging and a table runner during this Stitch A Long, as well as how to create a fabric book to for young kids to count down the days till Christmas.  Some may want to make fabric bags, with this collection, which  would be fun to fill with small gifts to give to kids, as they count down the days till Christmas.
These cute applique blocks can be cut using AccuQuilt dies, manually cut using templates provided in the design collection, or with electronic cutters (e.g. Silhouette, Brother Scan-N-Cut, Sizzix Eclipse, etc) using SVG files that are provided in this collection.
While you can use your blocks to create a wallhanging, table runner, or other quilted project, you could also adapt Marjorie's tutorial to create a fabric book using these blocks.  I'll be sharing how to use Eco-Fi Felt and these blocks to make a fabric book.
For those that follow my Fingertip Shopping blog, where I periodically share insights on great sales, you already know that this machine embroidery design collection is on sale this weekend at AccuQuilt.  You need not use AccuQuilt cutting machines and dies to cut the shapes, as Marjorie does provide templates in her design, but admittedly the dies do make this project go faster.
I have a large list of future Stitch A Long Projects, but my plan is to focus future posts to show only the current project and a little info on near term future projects, with supplies needed.  Of course, I'd also like to hear what sort of projects you would like to see in these Stitch A Longs, or if there is a quilting, sewing, or embroidery technique that you want to learn or improve on, as you may influence what projects we do when.  For now, I'm planning a mix of quilting, sewing and embroidery projects for use in your home, or appropriate for gifts.
There are certainly many options for virtual sew-cials and all are fun.  I hope you'll follow along and when one catches your attention, join the fun.